Childhood
Catherine Elizabeth usually known as "Kate" Middleton was born 9 January 1982 in Berkshire Hospital, Reading.
Photo: Kate's Mom holding a baby (maybe Kate?)
She grew up in Berkshire which is in the South of England. Her parents moved to Bucklebury, which is a village and civil parish in West Berkshire.
A picture of their current home
Photo: Kate's Birthdayparty as a child with cake
School
At 11, Kate went on to Downe House, a girls' public school, which she suddenly left in the middle of the academic year when she was 14. An old school friend has been reminiscing: "She is remembered to have been 'pale, quiet, shy and a little bullied'. "She was not that popular, was quiet and shy and in our peer-group she was regarded a nonentity." she says.
"It didn't help that she suffered rather from eczema and was understandably a bit body-shy about it. Her parents responded by moving her to Marlborough College in Wiltshire. 'Caterine arrived suddenly during the middle of the year,' says Gemma Williamson, a Marlborough contemporary. 'Sometimes jokingly we called her Middlebum. The boys were less affectionate. One day they decided to rate each of the girls out of 10. Kate scored badly. She turned to her mother and on returning from the summer holiday had undergone a transformation. Suddenly, according to Williamson, sha had discovered a new elegance and beauty. She acquired confidence, too: contemporaries recall the day she flashed her bottom at some of the male pupils.
Click: Article with pictures featuring her time in Marlobrough +among others her chum Gemma Williamson.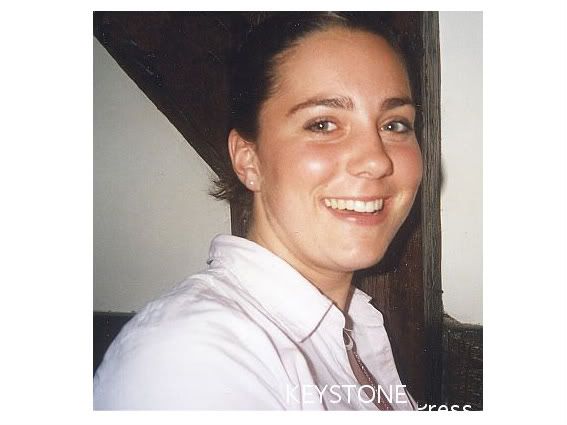 Photo: Young teenage Kate
"At 14, recalls one classmate, she joined other girls mooning boys from their dorm window. (That means she showed other boys her bum.)
[source]
Kate gained 11 GCSE's and 3 A-Levels while at Marlborough. What her 3 A-level subjects were, we do not know.
Coyright: Getty Images Europe2005, photographer Bruno Vincent
University
Kate graduated in History of Art from St. Andrews University in June 2005. At university, Kate continued to grow in confidence. She co-founded a girls' drinking society, 'annoyed that the old ones excluded women'
[source]
Kate took part in a see-through lingery dress at the 'Don't Walk Charity Fashion Show' where she was rumoured to met William's eye who was sitting in the front row. Ticket price was £20 and not £200 as rumored. After Kate graduated in History of Art from St. Andrews University in June 2005, she did nothing besides party, vacationing and being on call for William.
Working life ...or in Kate's case: Adulthood
After 2 years the public pressure forced her to get a job. Her parents called friend Belle Robinson and Kate started to work at the clothing chain Jigsaw part-time 4 days a week. After a couple of months she quit and was again unemployed. It was then that Kate got nicknamed "Waity Katy" because apparently all she does is waiting. There have been rumors of the Queen wanting Kate to get a job and so her mother says she is working for her parents company. To proof that she uploaded a picture of her mother Carol, Kate and another employee to the frontpage of their internet platform saying: Kate works! To calm down ongoing criticism of her alleged work for her Mother and Father. Kate was moving boxes outside the company's building and smiled for the paparazzi. There have been dozens of speculations of what the 30 year old woman is doing the whole day. Some say she is photographing the products for the catalogue. Once in a while new stories get out claiming Kate would work with famous photographers like Mario Testino (who workes a lot with Princess Diana) or Anna Wintour & Co. But those stories are always revealed as fake. When asked about Kate, Mario Testino said: "Kate who?" Until now, all of her alleged jobs have been nothing more than a rumor like the baby clothing line.
sports activities
We know she plays tennis sometimes and that she has played hockey in school. She has also been photographed twice biking outside her home. In 2007 she joined a rowing team for 3 months. Every year she goes to a ski trip with William. (Klosters, Switzerland or Courchevel, France)
bloodsport:
We got regular pictures of Kate being involved in bloodsport. Since the Queen censored all pictures taken by paparazzi on royal grounds in 2009, we don't get pictures like that anymore. Kate is usually out with William on a romantic date, which involves a shotgun, some helpless animals and lots of blood.
This is a picture of William nearly shooting Kate in 2009:
<Click>
She appears to have close ties to her family and is still holidaying with her parents at the age of 28. Kate is still living at home in her teenage bedroom. I think she did not mature to a grown up woman. It seems as if she is still living the life of a 18 year old living off her parents having no ambition other than her boyfriend.
Why "Waity Katie"
Kate had been given the nickname "Waity Katie" by the press which is now used by most royalwatchers. Some people think it's because of Prince William who is reluctant to propose to Kate. However Kate deserves the nickname for doing
nothing
but wait! She doesn't appear to have a life outside William. There is not even a hobby she does regularly. Yes, officially she is working for her Mom, but frankly I don't believe for a single moment that she is being treated like an employee. Kate's only purpose in life seems to wait and wait until William calls. She never made the efford to have a career or gets deeply involved in charity.
here are some names the press has called Kate
Bride-in-waiting, Bed Friend, Bleary Eyed Kate
Duchess of Bucklebury
Floozy
the times
The Limpet (allegedly from Prince Harry)
Her Thighness
Kate Middleclass,
Lover to Prince William, Lady of Leisure
Mattress
Princess-in-waiting, Princess Layabout
Disco Queen, Queen of Australia, Queen of Clubs, Queen-in-waiting
Royal Doormat, Royal Wannabe
Waitey Katey (Waity Katie), Wastey Katey, WAG, Wakey Wakey Katie
I think those names are soo not fitting for a future Queen
Should we feel sorry for Kate?
After 7 years of dating and ongoing engagement rumors, Kate is still no closer to the ring than she was 4 years ago. The press has courted her for years and portrayed her as a holy otherwordly being who cannot put a foot wrong. But over the years, public opinion of her changed and the media turned on Waity Katy. Most people dislike her today and dread the day of William popping the question and making her his Queen. Other than dating a Prince and a Bachelors degree Kate has not achieved a single thing. If William will break up with her she has wasted her best years for waiting and has nothing left but some holiday pictures and the memory of what could have almost have happened.
Kate is an almost 30 year old adult, capable of making her own decisions and being responsible for her own actions.
While she is facing media scrutiny she also gets the perks of freebies (Issa dresses or a cheap Audi). In the recent years Kate has managed to be one of the most laziest celebrites today, without actually doing anything but having a boyfriend. I am not feeling sorry for her at all.
negative side
My reasons why I am not a fan of Kate:
I detest her lazy lifestyle! She is a young women, who has all the opportunities in life and thows them away -this is a shame. Her work ethic is a disaster. The attitude: "why work" when "I'm going to be a princess anyway." is really bothering me most! It takes more to be a princess than to attend parties wearing a tiara and smile.
Kate is portrayed as a demure Lady which she is NOT!
I don't like the way she enters or gets out of a car. Someone who is flashing her privates to the photographers on a regular basis is not worthy to sit on the British Throne as the Queen.
See more:
<Click>
or
<Click 2>
she should learn to keep her hands under control when she is in public!! Scratching your bum or between your legs is so NOT ladylike!!!
picture: scratching her private parts
The fact that she seems to have NO life next to William is pathetic imo and I believe she totally deserves it to be called "Waity Katy".
I don't like her style. Some things are OK but even on formal occasions she doesn't look amazing. eg. I think her pink issa boxing ball dress was boring and nothing special. It bugs me that she is on those best dressed or most sexiest women lists. She so does not belong there.
Something is wrong with her aging process. She looks so old in some pics. midd 30 to 40!!! How does she look in 10 years???
Picture: looking like 50
I don't like how she enjoys being in the middle of the media attention and the hypocritical attitude towards the press: Kate loves to be photographed and appear on the cover of
Hello!
magazine. Yet she cries foul if the media reports negative things of her or prints ugly pictures. One PCC complaint and several threats to file complaints, yet always ready to smile.
Kate flirting with the camera:
<Click>
I consider her family very tacky and Middleclass. Like the public urinating infront of photographers (brother James), dressing in toiletpaper or letting a guy grope your boob on a party (Pippa) or selling drugs and prostitutes (uncle Gary) or supposedly asking the Queen where the toilet is (Mom Carol). All these things make me shiver and I wonder if Her Majesty knows about Kate and her weird family.
I think it is weird William usually acts as if Kate wouldn't be there. No touch, not even a luscious glance. We have maximum of 4 sets of pictures where he is looking affectionate towards Kate. He seems mostly uninterested and bored while she is gawking and smiling next to him.
There are too many party pictures of Kate appearing utterly drunk.
picture: Kate drunk 1
picture: Kate drunk 2
I hate the fact that she kills animals and seems to like it. Same goes for her siblings. Her sister reportedly said she was disappointed to only have killed 23 birds at a shooting :(
She tends to overdo her smile and looks like a Cheshire cat
Please not: Things on this list are soley my opinion. I do not say it is a fact that ie. she enjoys the media attention, it is simply my understanding and opinion.